Your home's safety comes first!
The excellent safety features installed even in our standard versions ensure top-notch safety levels.
5-point lock
In addition to the central bolt, our doors come equipped with two additional bolts with a massive hook and an additional latch and are thus well secured and firmly integrated into the frame.
All built-in locks allow for the cylinder to move away from the edge of the leaf, making it easier to unlock and lock the door.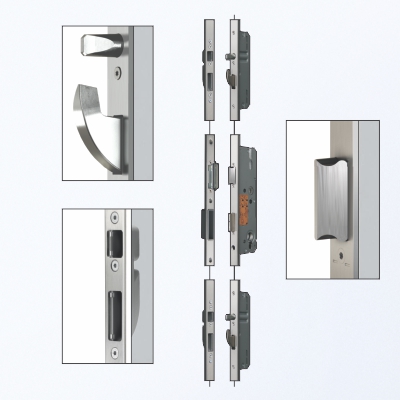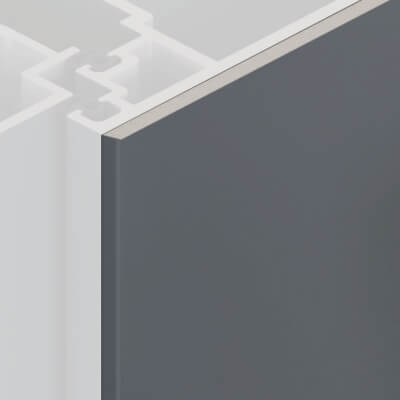 3mm thick aluminium panels
Both the external and internal aluminium door panels measure are extremely thick - up to 3mm. These massive panels thus provide stability and ensure a high degree of protection against intrusion.
Security rosette or security set
In addition to its aesthetic function, the external structurally anchored security rosette provides a very high level of protection as it protects the cylinder area against drilling.
A security set, made from polished or matte steel with integrated class RC3 protection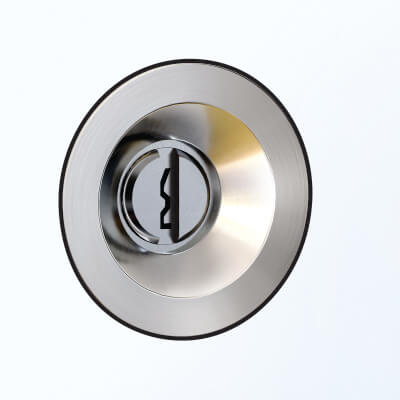 Cylinder
A standard double-sided action 6-key cylinder!
Thanks to the entrance door cylinder's two-way operation and security profile, you can control the cylinder even if a key is already inserted on the other side of the door.
3-piece security door hinges
Adjustable three-piece security door hinges protect the hinge side and prevent burglars from simply dismounting the door leaf. Safety hinges are available in all three standard door colours as well as in our ten most popular shades.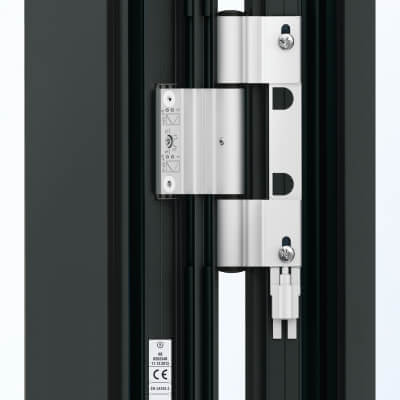 Certified security packages
GUARANTEED ANTI-BURGLARY PROTECTION
RC2
5-point security lock,
VSG P4A (glued) external security glass pane,
6mm thick VSG internal security glass pane (glued),
3 solid security hinges,
K 100 security cylinder,
Security plate,
Security rosette
RC3
5-point security lock,
VSG P5A (glued) external security glass pane,
6mm thick VSG internal security glass pane (glued),
3 solid security hinges,
K 100 security cylinder,
Security plate,
3 security bolts
Safety components FOR YOUR IMPROVED SAFETY
Safety glass
Tempered safety glass (ESG) is impact-resistant, but in the event of breakage, it is broken into small, non-sharp particles, reducing the risk of injury.
Laminated safety glass (VSG) and laminated glass with additional bonded layers (P4A) provide an even higher level of safety. The glass consists of two or more layers interconnected with a PVB film. When the glass is broken, the glass particles cling to the foil film, which holds them together, which in turn provides reliable protection against damage and burglary.
Locking
The standard 5-point lock with additional rotating hooks provides an exceptional level of protection.
You can also select an automatic or motor lock, which locks the door as soon as you close it. This is not only practical but also provides unbeatable security as you will never forget to lock the door again.
Cylindrical insert
You can opt for a cylindrical insert that has several fixed and active latches so that it is safe against drilling. Security cylinders are equipped with a special security card that prevents unauthorized key copying. New key copies can only be made by authorized workshops upon prior presentation of the security card.