INOTHERM entrance doors are high-quality products designed for long-term use.
To ensure lasting functionality and aesthetic durability, it is necessary to provide regular and professional care and maintenance of the product. To avoid any major damage, the product must be regularly inspected and any damage promptly repaired.
By following only a few basic instructions you will be able to use the product for decades to your and our satisfaction. The care and maintenance kit you received when you picked up the door will help you.
We recommend you use the supplied lubricant cleaning kit for the care and maintenance of your product.
Care of aluminium and stainless surfaces
Anodised, powder-coated and stainless surfaces exposed to external influences require regular care.
You will only be able to maintain the beautiful decorative appearance of your product for decades if you clean it regularly.
The external parts are exposed not only to the weather, but also to industrial gases and aggressive dust, which along with rain and dew corrode the surface, impairing the visual appearance of the product.
Cleaning should not be carried out when the product is exposed to direct sunlight. The allowed maximum surface temperature during cleaning is 25ºC.
PH-neutral cleaning agents that do not damage the surfaces must be used.
Hardened dirt, removable only by efficient solvents, must be cleaned with extreme care. Aggressive solvents can cause permanent damage to surfaces in the form of visible stains. To avoid such damage to your product, make sure to check that the cleaning agent will not damage the surfaces of the product before cleaning (by test cleaning parts of the product not visible during normal use).
Hardware
All the hardware comes pre-oiled.
Any debris resulting from the installation of the product should be cleaned immediately (by the installer).
All moving parts of the hardware must be oiled once a year.
The hardware should only be cleaned using agents that do not remove the corrosion protection.
The screws should be checked occasionally to ensure that they are tightened fast.
Insulating glass
Only cleaning agents that can be thoroughly rinsed with water should be used for regular glass cleaning. Roughing agents or aggressive chemical cleaners must not be used. Siliconized parts must not be dry-cleaned.
Seal
Da se zagotovi trajna uporabnost tesnil je potrebno občasno preveriti oziroma zagotoviti, da so le-ta vedno čista. Tesnila je priporočljivo enkrat letno namazati s priloženim mazivom, da ostanejo čimbolj prožna.
INOTHERM cleaning set for door cleaning and care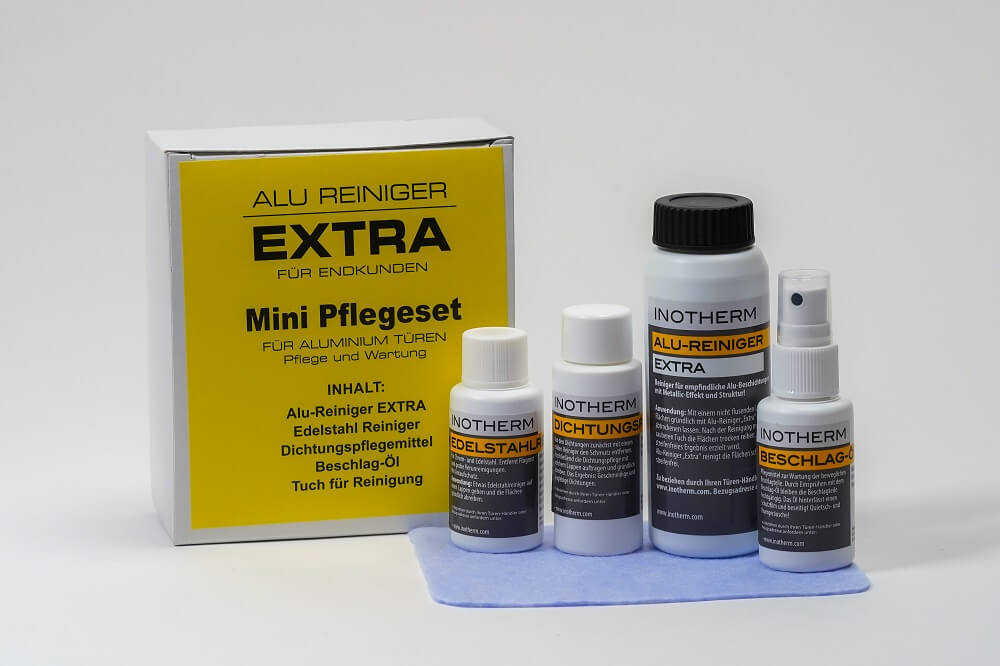 EXTRA – Aluminium surface cleaner
This special cleaner is suitable for intensive cleaning of metallic paints and fine structural paints. The EXTRA aluminium cleaner should be applied to the surface with a soft cloth to thoroughly clean contaminated sites. Clean powder-coated metal surfaces using a soft cotton cloth to avoid surface damage and staining.
Seal care and protection agent
This is a cleaning agent for the care and maintenance of EPDM seals, incorporated in the aluminium elements. Apply with a soft cloth to the accessible sealing surfaces and clean the seal thoroughly. The seals must be checked every six months and cleaned if necessary. This will ensure the long-term elasticity and long useful life of the seals.
The Edelstahl-Clean stainless steel surface cleaner
is an agent for cleaning and preserving stainless steel surfaces. The stainless steel cleaning agent is intended for cleaning individual stainless steel components on Inotherm door surfaces (handles, knobs, etc.) The stainless steel cleaning agent is also used for swiftly cleaning air rust while protecting the cleaned surface over the long term. The Edelstahl-Clean stainless steel cleaner also ensures the preservation of stainless steel door surfaces and long-term protection against smudging.
Hardware maintenance and protection oil
is an agent for the care, maintenance and protection of mechanical moving parts in the hinge area and other moving hardware. Using our hardware protection and care agent ensures long-term and trouble-free functioning of moving parts. The hardware protection agent forms a protective coating on the hardware to prevent creaking and other unwanted noise.