CHOOSE YOUR DOOR
Don't just look for a door that appears to go well with your home. Better create one with us. You can find inspiration in our catalogue, and simply choose your favourite model and adapt its every detail to your wishes, needs and style.
The name Inotherm symbolises a unique blend of traditional quality and cutting-edge technological innovation. By drawing on Slovenia's rich knowledge and applying state-of-the-art manufacturing procedures, we have for the past thirty years been creating entrance doors that meet the highest criteria of an advanced, perfectly stylised, safe and sustainable home.
Even though we have been dubbed Europe's largest manufacturer of aluminium entrance doors, we stand out with our boutique method of manufacture. Each of our products is unique and created to suit your individual style and daily needs.
WHY DOES YOUR ENTRANCE DESERVE INOTHERM QUALITY?
Inotherm is a reliable and loyal partner, and with its unrelenting desire for continuous technological and design development, it actively co-creates its entire door production. We owe our international success to our unstoppable efforts to meet user needs, which is reflected in our keen sense of detail. Take a look at the most important of these details in the overview below, where you can admire the advantages of our doors from both the inside and the outside.
TOP-LEVEL INSULATED DOOR LEAF
The above-average thickness of the internal and external aluminium panels, the innovative 95 mm thick filler and the highest quality seals lower the Ud value down to even 0.61 W/sq m
STANDARD 5-POINT LOCK FOR FULL PROTECTION
It ensures that the door is even more firmly fastened into the frame and consists of as many as three latches and a bolt.
A WIDE PALLET OF GLASSES
For the magnificent look of your entrance and more light in your hallway. You can choose between left-side and right-side lights and fanlights, which you can also combine. Our glasses are three-layered and feature exceptional insulation properties.
A PANOPLY OF ACCESSORIES
In addition to ornamental glass, custom handles and knobs and nameplates, extremely practical accessories, such as a mirror on the inner side of the door, are also available.
THREE-PART SECURITY HINGES
They prevent potential burglars from removing the door leaf, while also holding the door firmly in the frame and contributing to superior insulation.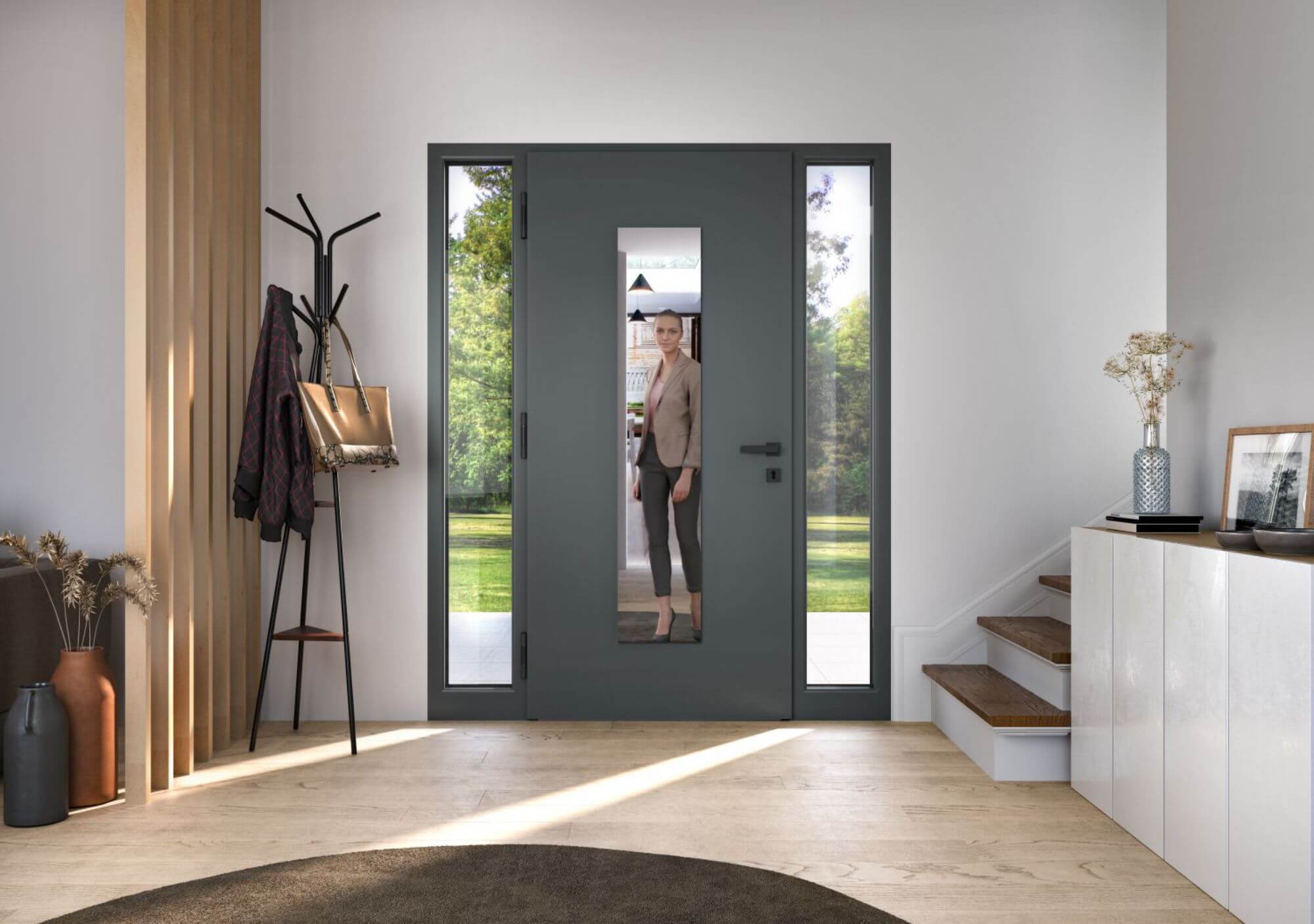 A WIDE CHOICE OF HANDLES
For every entrance door style and colour, Inotherm's selection includes a top-quality handle.
EXTERNAL SECURITY ROSETTE
It protects the cylinder area from being drilled through.
CUSTOM GLAZING
Let more sunshine and fewer curious gazes into your flat. Our impact-resistant safety glass, which shatters into non-sharp particles if broken, is also available as an option.
THERMALLY BROKEN THRESHOLD
Thanks to its thermal break and additional sealing, the durable aluminium threshold reduces the energy flow in the lower part of the door and enables invisible fastening.
SMART UNLOCKING
The INOSMART optional smart door opening system features automatic locking, keyless unlocking and control or operation customisation via mobile application.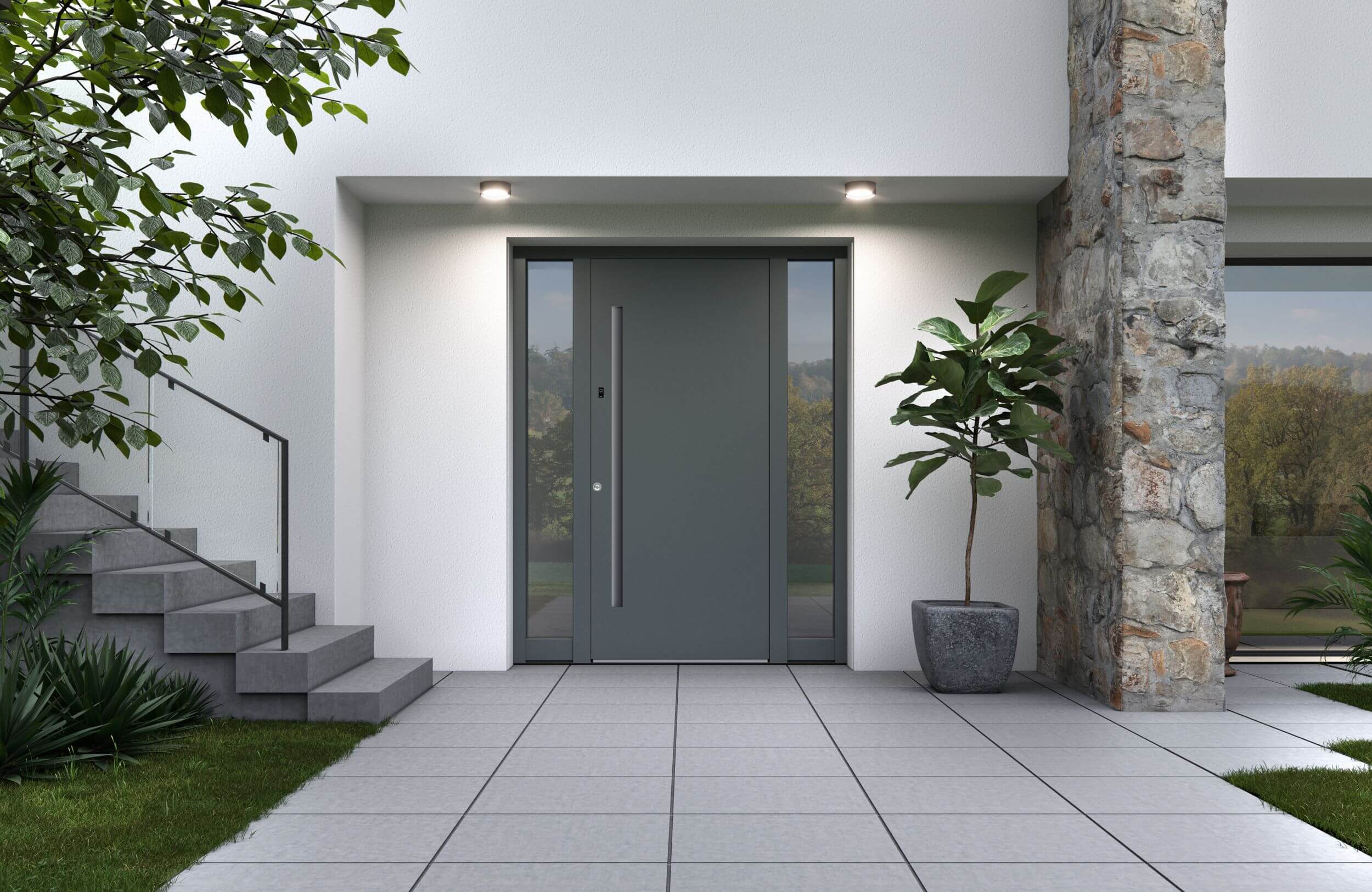 ENTER INOTHERM'S WORLD OF ENTRANCE DOORS
Choose one of the more than 400 of our door models, adapt it to the facade of your home by using the configurator, and encapsulate your story in the timelessness of aluminium. To get inspiration, please check out our best-selling entrance doors.
For a first-class shopping experience, accessible from the very comfort of your home, visit our virtual salon or choose the option of online consultation with our experts.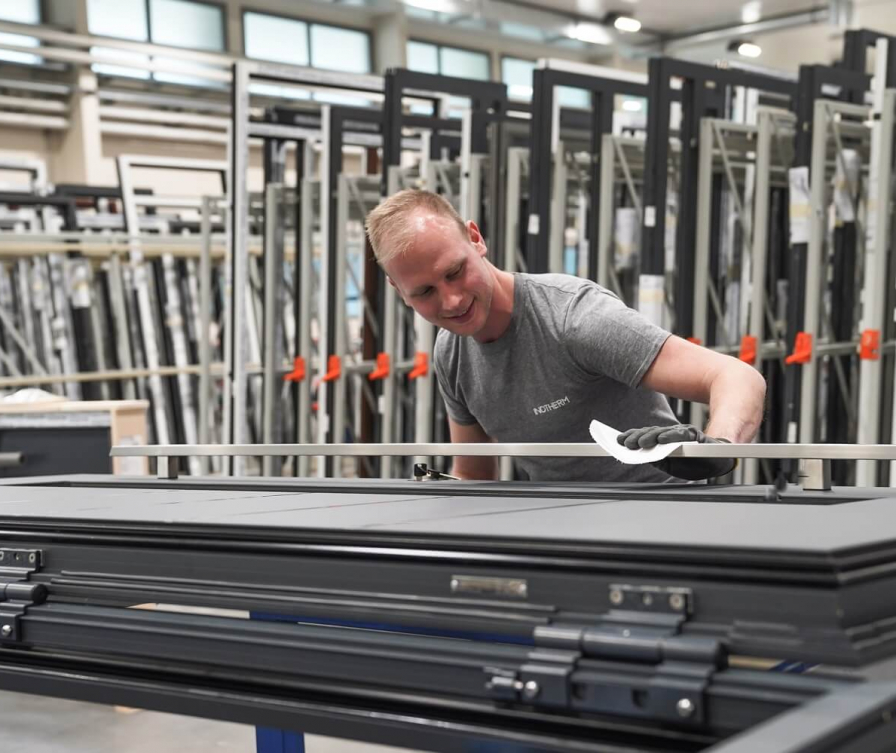 ONE QUALITY, COUNTLESS STYLES
We create Inotherm entrance doors together with you as we allow you to adapt any model you select to the style of your entrance by using the configurator. Set the dimensions, choose your favourite glasses, change the colour or boost your anti-burglary protection – the choice is yours, and it is just a click away.
Add an image of your facade to the configurator and check how your selected door model matches it.
Your entrance door can be decorated with classic, matte or shiny colours, and wood lovers can also dress their doors in authentic wooden decors.
Create a play of light with ornamental glass, without giving up on superior insulation.
Choose from a variety of handles designed according to the most recent guidelines, which you can also fit with an advanced LED-lit fingerprint reader.
Secure your home reliably with classic 5-point or state-of-the-art automatic motor locking.
Accessories such as peep-holes, house numbers or other types of plates and RENZ mailboxes are also waiting for you..
THE ENTRANCE DOOR YOU LOCK AND LEAVE ASIDE YOUR WORRIES
Anti-burglar security is not only our trump card – it is a strategy that we plan, develop and strengthen by using the most advanced technologies. We protect each door:
with internal and external plates thick as much as 3 mm,
with three-part safety hinges that prevent burglars from removing the door leaf,
with impact-resistant 6 mm thick safety glass,
with a 5-point safety lock with additional latches and a hook,
with a safety cylinder allowing unlocking on both sides at the same time, and
with an external safety rosette protecting the cylinder area from being drilled through..
The protection of our entrance doors complies with the RC 2 or RC 3 international security standards, as they also optionally offer:
laminated or tempered safety glass,
a 5-point motor lock and
a special safety cylinder with anti-drilling protection.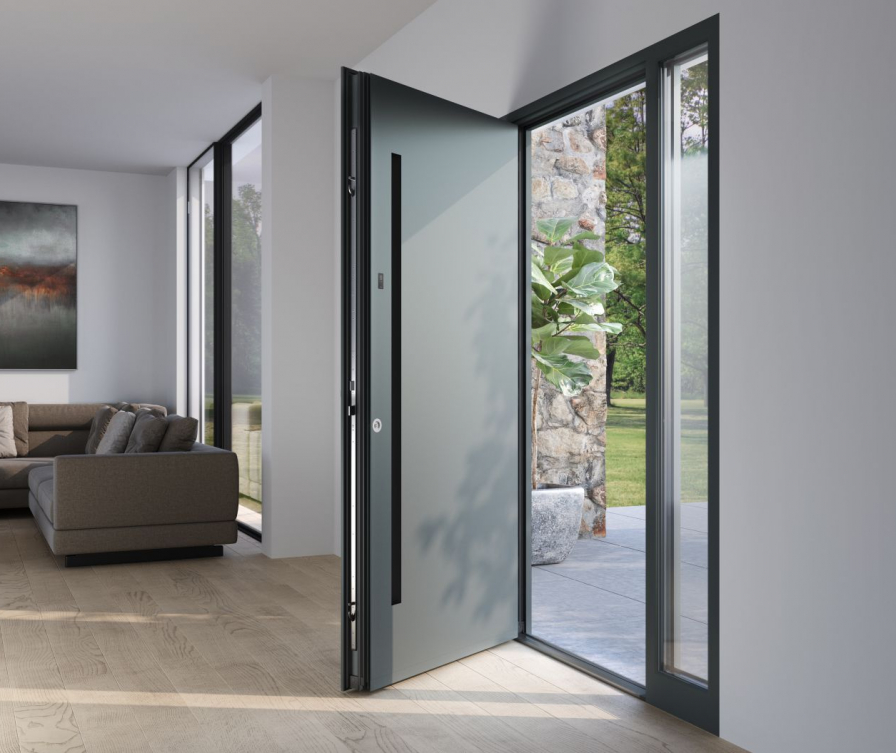 FREQUENTLY ASKED QUESTIONS (FAQ)
WHAT ARE THE INDICATIVE PRICES OF YOUR DOORS?
Because each of our models is unique and features different accessories, it is not possible to give a single cost estimate. We recommend you submit an inquiry for the door model you like, and we will respond to you with an informative offer within 24 hours.
WHAT ARE YOUR DELIVERY DEADLINES FOR ENTRANCE DOORS?
Our current delivery time frame is 8-9 weeks, but it can be slightly longer during periods of increased demand. At Inotherm, we are known for strictly meeting our deadlines, so you can always rely on our agreement.
HOW LONG DOES THE INOTHERM ENTRANCE DOOR WARRANTY LAST?
For each model werecognise:
a 5-year warranty on the functionality of the product and all its installed components (in strict compliance with the installation, maintenance and product care instructions), and
a 5-year warranty on the airtightness of the insulating glass, which also covers the prevention of the appearance of condensed water in the inter-glass space.
Any elimination of product defects or replacement of defective parts is free of charge during the warranty period. You can find out more about the validity of the warranty and the warranty terms and conditions at this link.
HOW DO WOODEN AND ALUMINIUM ENTRANCE DOORS COMPARE?
Wood provides a unique natural touch and creates a pleasant, warm atmosphere. Quality wooden doors therefore go well with a multitude of styles, but their flawless look requires regular maintenance in the form of painting and varnishing. Aluminium entrance doors, on the other hand, are quite easy to clean and maintain. They can also be dressed in numerous wooden decors, so at first glance they are almost indistinguishable from wooden ones.
WHAT IS THE DIFFERENCE BETWEEN PVC AND ALUMINIUM ENTRANCE DOORS?
Aluminium entrance doors have numerous advantages over plastic ones, the main ones being their longer service life and better insulation. Due to its better static stability and greater strength, aluminium is better at withstanding extreme temperatures, so it is much less susceptible to bending.
This is crucial given the temperature differences between the outside and the inside, which occur in both summer and winter. Bent door leaves fit more poorly into the door frame and consequently result in poorer sealing, which results in heat loss and thus higher heating costs. Such doors must also be replaced earlier.
You can read more about why Inotherm entrance doors can withstand all types of weather so well in the article.
WHAT IF A CERTAIN OPTION IS NOT IN THE CONFIGURATOR?
If you have additional wishes or needs during the configuration, you can contact our experts, who will try to incorporate them into the plan as much as possible and ensure its realisation. You can also create a completely unique entrance with the help of an architect, and our specialists will draw up a plan based on the architect's design.
HOW TO DETERMINE THE MEASURES FOR DOOR CONFIGURATION OR SUBMITTING INQUIRIES?
The proper measuring of the door opening is of crucial importance, so customers are advised to do it with the help of a measuring expert. For an inquiry or an indicative offer, we only need approximate dimensions, so you can wait with the accurate measurement until you make the actual order.
You can also determine the dimensions of your new entrance door yourself, which is somewhat easier in new buildings. In this case, please note that the construction opening must be 30 mm wider and 20 mm higher than the door unit. When determining the height, make sure to start from the height of the finished floor.
Read more about how to measure the opening of your entrance door yourself - both for new buildings and when renovating the entrance - in this article.
WHAT TYPES OF STRUCTURES ARE AVAILABLE FOR INOTHERM DOORS?
Most of the models are single-leaf entrance doors, but we can also make double-leaf doors at the special request of the customer. We can also add side lights and fanlights to the door to bring more daylight into the home while optically highlighting the entrance.
Most doors in family houses open inwards, but if you want to save space or the design of your entrance does not allow the door to open inwards, you can also choose to open your door outwards.
HOW TO USE THE ENTRANCE DOOR CONFIGURATOR?
The entrance door configurator enables quick and easy personalisation of any model we offer. You can choose the model you want to customise from our online catalogue, or you can start the configurator immediately and use the filters to find the door that is closest to your taste. The steps that will follow include:
You can put the final configuration into the image of your facade and immediately check the suitability of your choice. If you are satisfied with the appearance of the created entrance, you can submit an inquiry, and we will respond to you with an informative offer within 24 hours.
HOW TO CHOOSE THE RIGHT ENTRANCE DOOR?
Doors are a long-term investment, so it is essential that they suit both your style and your daily needs. The following considerations are key in making the selection:
the door model style (rustic, classic, modern, minimalist, unique design, etc.),
colours and decors (variegated colours, appearance of wood or other natural material),
door handles or knobs as the icing on the cake for any entrance door,
glazing (ornamental or motif glasses),
accessories such as nameplates, house numbers, mailboxes, and of course
security protection (RC 2 or RC3) or the unlocking method (smart or motor unlocking or classic key unlocking).
Read in our front door personalisation guide about how to find or create the perfect combination. When making a decision, do not miss the possibility of visiting our virtual salon, where you can stroll among our most popular models with a click of the mouse, and don't miss the configurator. It allows you to upload an image of the facade of your home to the Internet, and place your selected entrance door in it. This way, you can easily see how the new door would fit into your building.
WHAT ARE THE BENEFITS OF ALUMINIUM ENTRANCE DOORS?
Aluminium entrance doors are extremely resistant to extreme weather conditions, offer superior heat and sound insulation and boast a long service life. Aluminium can also be completely recycled, so this type of door is also an environmentally friendly choice.
As Inotherm's aluminium entrance doors are of above-standard thickness and boast an innovative type of insulating filler, they are even more energy efficient and are a safe choice due to the high level of standard protection. Thus they constitute an excellent solution for passive new buildings or renovations aimed at improving energy efficiency.
Do you want to learn more about the advantages of aluminium? Follow the link!
WHY CHOOSE INOTHERM ENTRANCE DOORS?
Inotherm boasts a number of unique advantages that give it a decisive edge over competing manufacturers:
All our models are made in their entirety in a state-of-the-art production plant in Slovenia, which also includes an automated paint shop and glassworks. This gives us complete quality control and allows us to ensure consistent compliance with the highest standards.
Above-average door leaf thickness compared to similar products: standard 95 mm.
Above-average thickness of the external and internal aluminium panels: standard 3 mm.
Above-average glass thickness: standard 6 mm.
Quick order - our modern information system ensures the preparation of an informative offer within 24 hours of you submitting an inquiry.
Options of online purchasing and easy personalisation with the help of the entrance door configurator.
You can create a fully personalised entrance door with just a few clicks.
More about the advantages of Inotherm entrance doors can be found at this link.
Product added to favourites